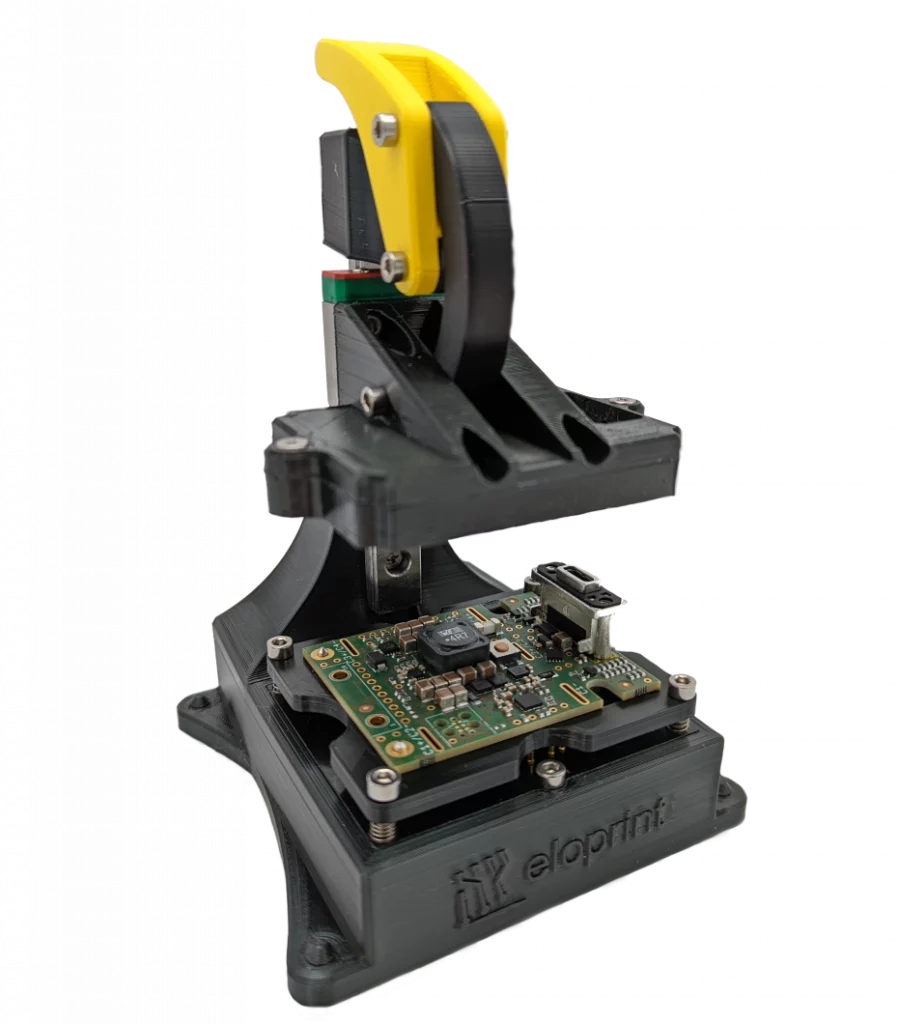 3D printed test adapters
We design individual test adapters for you to electrically contact your assemblies. Whether you want to test a printed circuit board or an assembled device – thanks to our specialization in additive manufacturing processes, we can provide you with a cost-effective solution and short delivery times.
→ Discover our test fixture variety
Visit us at embedded world 2023
We look forward to showing you our range of services at embedded world in Nuremberg from June 21 to 23, 2023. You will find us in Hall 3A, Stand 3A-325d. Do you need a ticket for embedded world 2023?
No problem, just send us an email to: info@eloprint.de
Thanks to our customers for many exciting projects

Your advantages with our test adapters
Testadapter designs
For common requirements we offer the 3 construction types BAL, PRL, POL and IDL. Completely individual constructions are also possible. The shape and size of all of our test adapters are always individually adapted to the assembly to be tested. Thanks to the additive manufacturing process, special features can be easily taken into account.
This not only applies to unusual designs of the test objects, but also to special features of the test fixtures such as:
Display and controls in the test adapter
Exemptions from certain areas of the examinee
Sensors in the test adapter
Test needles from any manufacturer or we will make a suggestion
Contacting test points, pads, vias, solder joints, connectors, …
Lateral contacts
Permanently installed electronic components in the adapter (e.g. ISP, measurement cards, multiplexer, etc.)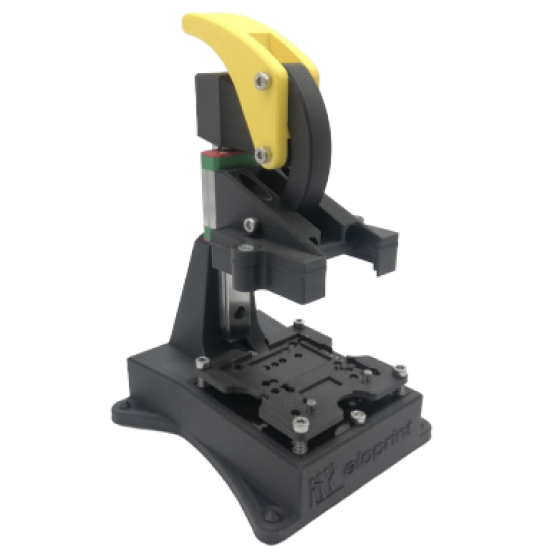 BAL
This BAL design was specially developed for small circuit boards. Double-sided contacting is also possible with this.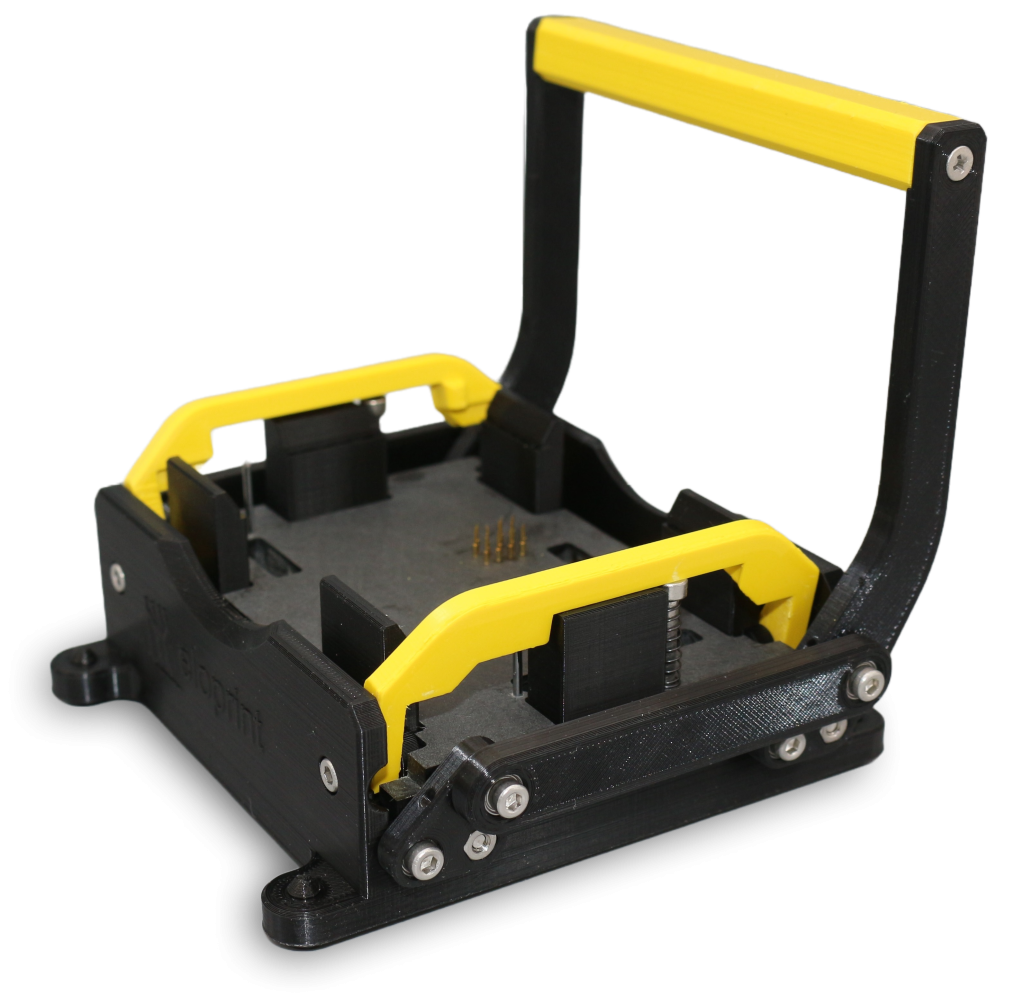 PRL
The PRL design is particularly suitable for small and medium-sized boards. It is characterized by very good usability and good accessibility of the circuit board when clamped.
POL
The POL design is suitable for large boards. It can hold down the circuit board at any point and make double-sided contact if necessary. The robust mechanism allows contacting hundreds of test points.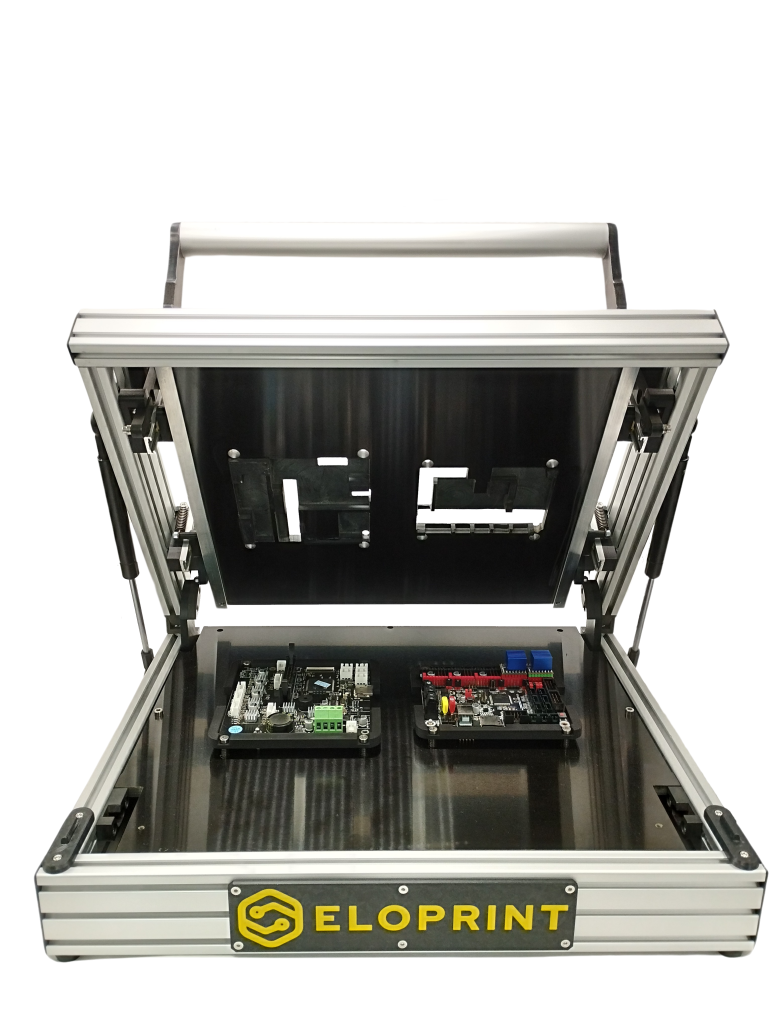 IDL
This IDL test adapter was specially developed for very large boards. A robust adapter that reliably contacts even large quantities of very large circuit boards.
Individual Adapters
Are your requirements too individual for our standardized construction methods? Then we are happy to create individual constructions. This is worthwhile, for example, for assemblies that are installed in housings or if individual plugs have to be contacted.
Price calculator
Calculate the non-binding net costs for your test adapter
Testadapter specification
Following specifications reflect average cases. If you have different requirements, please contact us!,
Characteristic
Standard
Special case
Material
VisiJet M2S-HT90, FR2, PLA, ABS oder PC
Aluminium, Stahl, PA12, ASA, PEEK, PEI, Keramik oder Acrylharz
Temperature resistance
50°C , 90°C oder 120°C
High performance plastic: >200°C
In extreme cases the testadapters can be printed of ceramic or metal.
Izod impact strength, notched (at 23°C)
Charpy impact strength (at 23°C)
—
Charpy impact strength (at 23°C)
58 kJ/m² according to ISO 179
—
Hardness
76 (Shore D, test method: durometer)
—
ESD protection
guaranteed by special coating
—
Contact resistance
< 50 mΩ
< 4 mΩ
Current
1 amps
> 100 amps
High frequency
No special precautions
Special coaxial test pins, leads and connectors
Service life
> 100.000 Cycles
(In practice often much more)
Design according to your requirements
Pitch
≥ 1,27 mm
≥ 0,5 mm (requires close examination)
Conformity
CE (RoHS, REACH)
—
Ordering process
Step 1
Calculate price
Simply calculate the expected costs yourself using our price calculator. We ask for your understanding that the costs for individual requirements may vary.
Step 2
Inquiries
Send us your requirements. In particular we need:
Number of test points
Dimensions and shape of the board
Information about large, heavy or protruding components
Connectors to be accessible
Do currents flow above 1 ampere?
Special requirements
We accept all of the following data formats:
Photos / Screenshots / Drawings
3D data of the test object (.stp / .iges)
2D data of the test object (.dxf)
Step 3
Questions / Offer
We do our best to settle all outstanding queries and send you a binding offer within 24 hours.
Step 4
Order
When ordering, we ask you to provide a test specimen for test purposes. This will be returned to you in sound condition upon delivery of the adapter.
Step 5
Development / Manufacturing
As soon as your order is in, we begin designing your adapter. Once your test specimen arrives, we are able to check the tolerances and smooth functioning of the device and its production can be completed.
Step 6
Delivery
Within the agreed delivery time, we will hand over your test adapter to a suitable shipping service provider.
Frequently asked questions
Contact
For an error-free process, we ask you to specify your test points and the desired pin assignment in this template:
Contact information:
Please fill out the contact form to get in touch: